Scalable and inter-operable supply chain apps at your fingertips.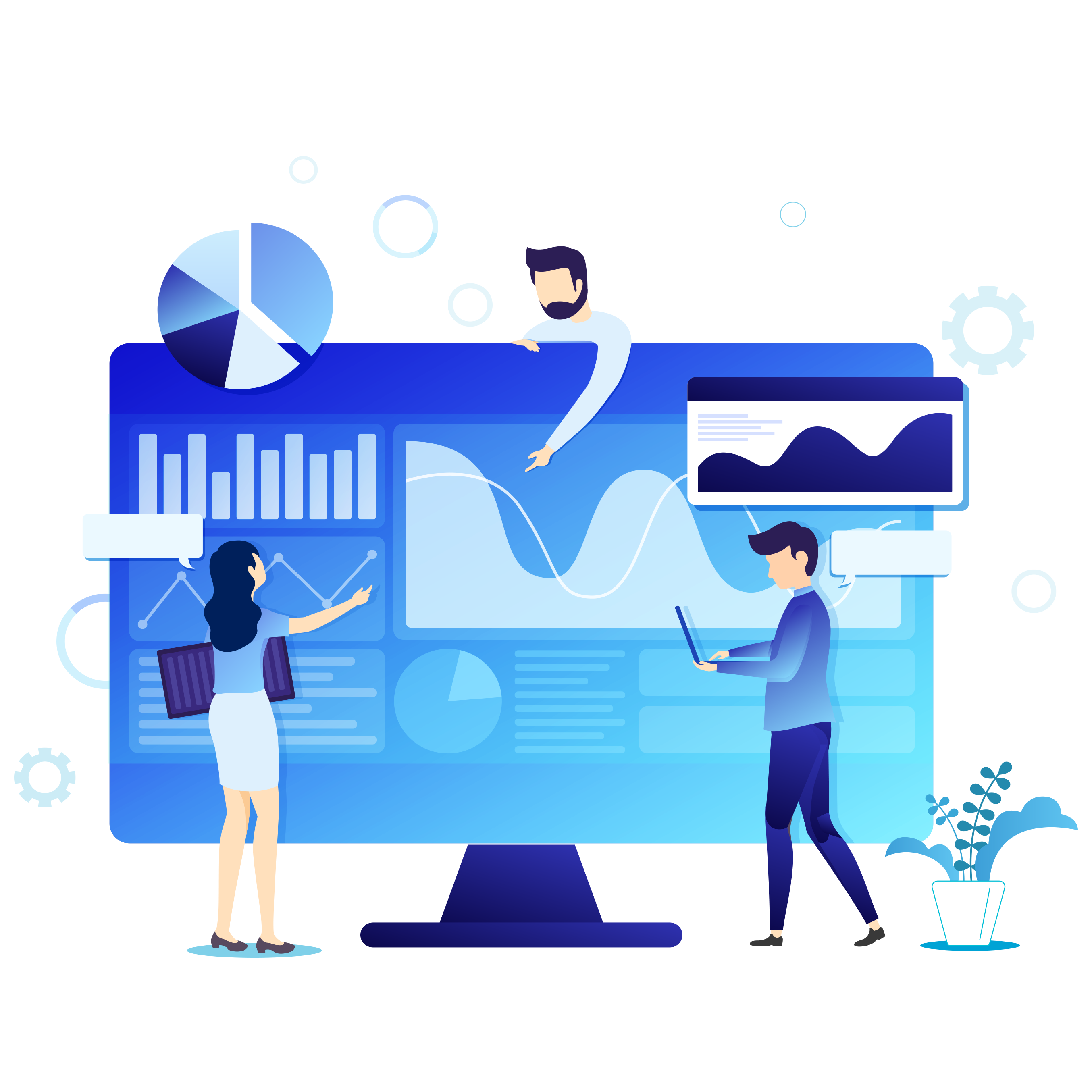 Upstream Tracking
CONGRUENCE
Demand Forecasting
REGRESSION
Polygon Apps
Not every app has to be built from scratch. We offer a set of pre-built apps, which are being used by our clients in practice and cover standard supply chain processes. PARALLEL
Scenario based Planning down to Transactional Level.
Optimize Your Supply Planning
Optimized allocation of demand to manufacturers by considering duty, MOQs, leadtime, etc. CONGRUENCE
Collaboration with upstream supply chain partners
Monitor Delays and Defects
Track the performance of your material suppliers and anticipate shipment issues.
CUSTOM*
Tailor Polygon to fit your company's supply chain needs
Get your custom application
We will leverage existing Polygon templates and release an alpha version with your data within 3 days.
PARALLEL App
Scenario based planning down to
transactional level.

Consolidate demand signals from all customers.
Allocate demand to manufacturing resources by considering capabilities, capacities, duty rates, upcharges, MOQs and user-defined business rules.
Run multiple allocation scenarios and select the supply plan most in-line with your sourcing strategy.
Fine-tune your supply plans by overwriting PARALLEL's recommendations.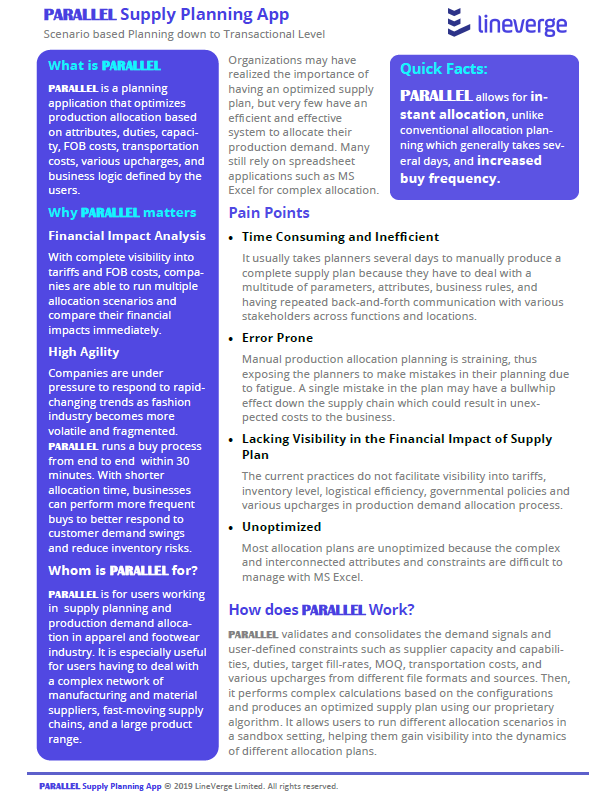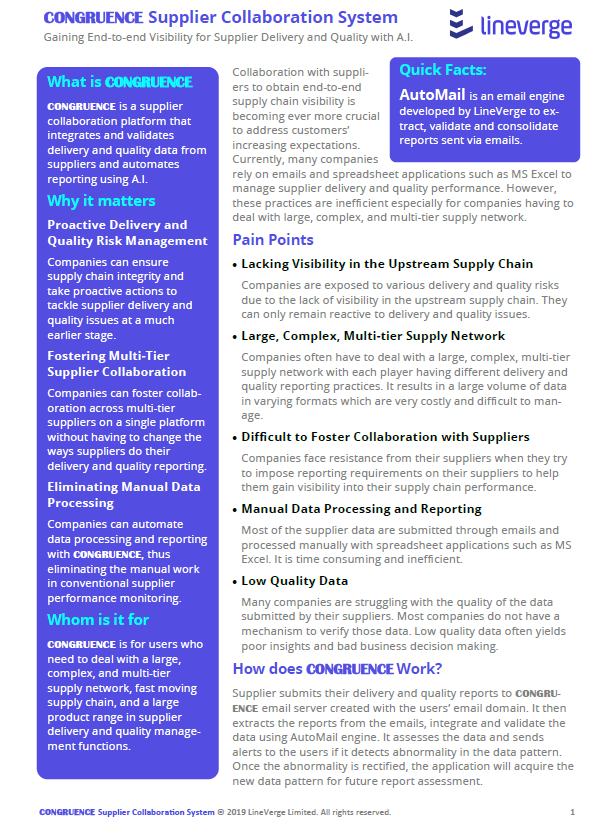 CONGRUENCE App
Collaboration with upstream supply chain partners without changing the existing practices.
Collect material quality, delivery and inspection related data from upstream supply chain partners.
Examine the collected data and use patterns to highlight abnormalities to users.
Review clear and concise reports and identify the areas that require actions.
Custom Apps*
Need to cover a non-standard business process? Our data science team is there to release a custom Polygon App for you following an agile deployment approach.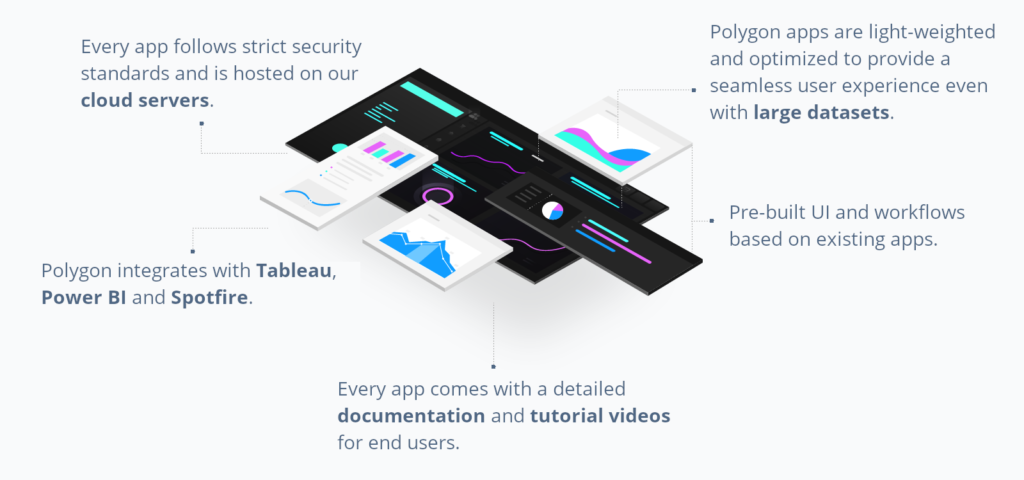 Hosting
Polygon Clould servers are configured to speed the deployment time while providing the right resources, security, and scalability.
Scalable production-grade WSGI server as a foundation for your company's mission critical apps.

Single environment for covering multiple supply chain processes.

Role-based access for your team and supply chain partners with Polygon's secure authentication module.

Start small and extend your app as you go.